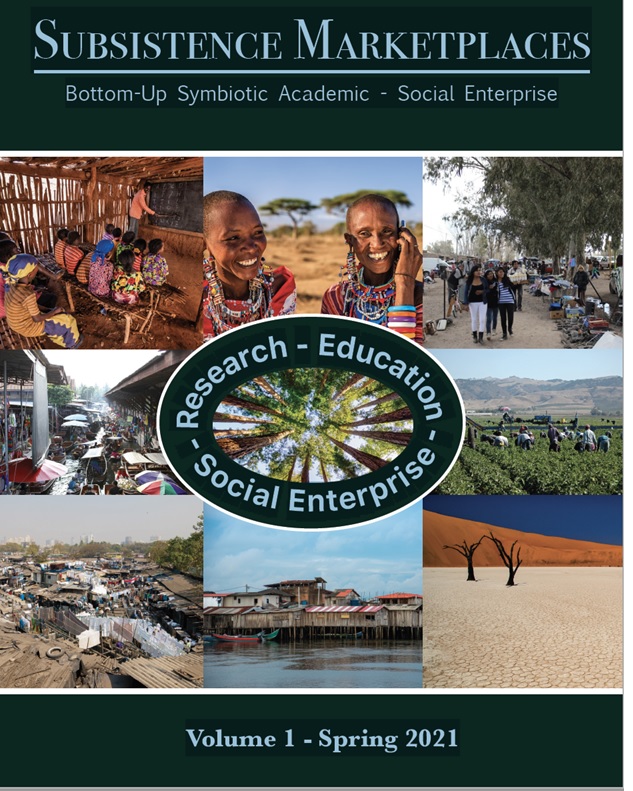 Soon-To-Be-Launched Journal and Knowledge-Practice Portal
We will launch a journal and knowledge portal on subsistence marketplaces, fully operational In Spring 2021. Our purpose is to create a space for the unique bottom-up approach from micro-level foundations that this stream of work represents with a number of defining characteristics.
Studying individuals and communities in these contexts in their own right and not as a means to another end, i.e., inside out
Focus on consumers, entrepreneurs, and marketplaces in the broad range of low income – from extreme poverty to the lower end of lower-middle income
Starting point of micro-level foundations of thinking, feeling, coping, relating, and sustaining
Bottom-up approach to generating and aggregating insights

For designing solutions
For developing enterprise models
For sustainable development

An inter-sector, interdisciplinary orientation aimed toward an audience of researchers, educators, and practitioners in all sectors
Synergies between research, teaching, and practice
A multi-media portal that provides supporting material and presents voices from these contexts
An active collaboration with practitioner partners interested in such insights
Our journal follows an enduring stream of work on subsistence marketplaces, with eleven conferences, several special issues or sections, and scholarship and practice from around the world over the past decade and a half. The journey so far provides a road-map in being bottom-up, bringing out voices of those with the least resources, involving scholars and practitioners from around the world. We envision a knowledge-practice platform that encompasses a variety of facets from a journal with refereed articles. The portal along with the journal will provide a hub for research and practice that adopts a bottom-up approach to studying low income consumers, entrepreneurs, and marketplaces. It will be a home for work that begins at the micro-level, examining these contexts in their own right, inside-out rather than outside-in.
We aim to be distinct in a number of ways. We will find ways to support the research-practice endeavor end-to-end or, before, during and after, through:
connecting researchers to practitioners
creating forums for development of research
providing a space for protocols of planned research
providing an outlet for research
enabling the translation from research to practice
enabling the translation from practice to research
creating a platform for knowledge-practice or academic-social enterprise
envisioning new metrics for gauging impact to a broad audience
The journal will also be distinct in allowing for more balance between rigor and creativity, as well as between cleanly interpretable results and messy reality.
A variety of papers are welcomed and supporting multi-media can be submitted with papers.
Research Article (Up to 8000 words)
Research Notes (Up to 4000 words)
Commentary/Perspective/Opinion Article (Up to 3000 words)
Case Study (2000-4000 words)
The following have agreed to be on the Editorial Team and to serve as Co-Editors or Area Editors. They represent researchers, educators, and practitioners at the forefront of work in this stream.
The following are on the Editorial Board and serve as Area Editors. They represent researchers, educators, and practitioners at the forefront of work in this stream.
Editor-In-Chief

Madhu Viswanathan, (Loyola Marymount University, and Emeritus, University of Illinois, Urbana-Champaign, USA)
Associate Editors
Paul Ingenbleek (Wageningen University, Netherlands)
Lisa Jones (Brigham Young University, USA)
Ramendra Singh (Indian Institute of Management, Kolkata, India)
Srinivas Venugopal (University of Vermont, USA)
Co-Editors – Research (Regular submissions, research notes, research in development)
Andres Barrios (Associate Professor, Universidad de los Andes, Colombia)
Ronika Chakrabarti (Trinity College, Dublin, Ireland)
Benet DeBerry-Spence (University of Illinois, Chicago)
Roland Gau (National Chiao Tung University, Taiwan)
Saravana Jaikumar (Indian Institute of Management, Kolkata, India)
Jacob Park (Green Mountain College, Vermont, USA)
Laurel Steinfield (Bentley University, USA)
Co-Editor – Education

Co-Editors – Social Enterprise
Ronald Duncan (University of Illinois, Urbana-Champaign, and Loyola Marymount University)
Francesca Lucchi (Development Consultant)
Ramadhani Kupaza (Subsistence Marketplaces Initiative and Marketplace Literacy Project, Tanzania)
Co-Editor – Business
Nagendra Rangavajla (Califia Farms, USA)