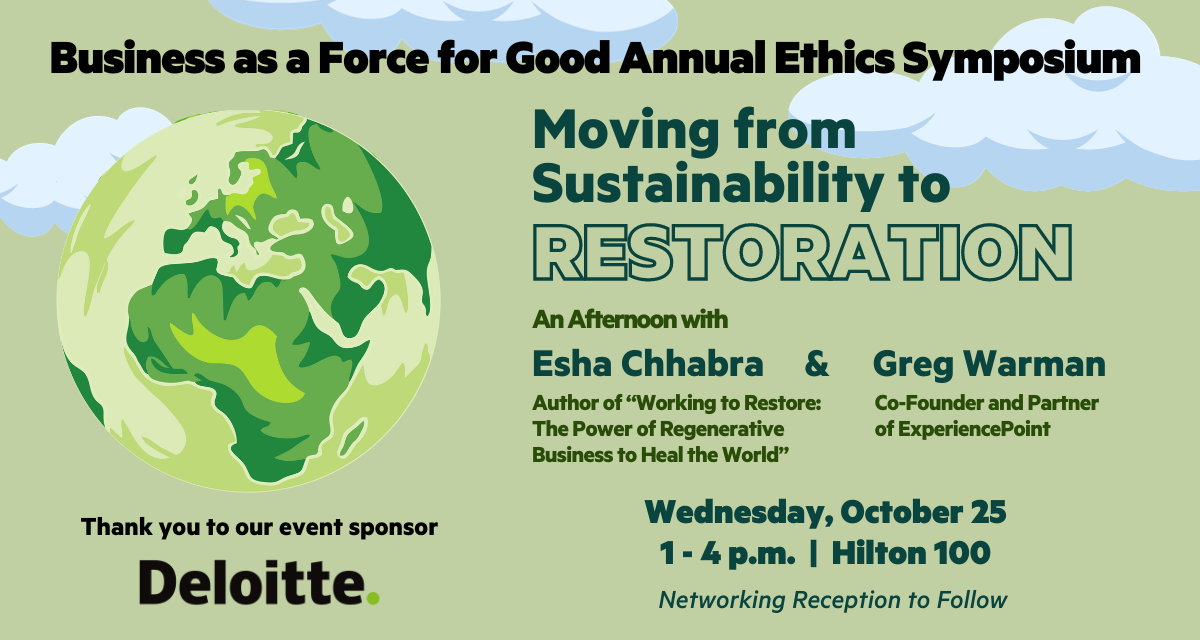 "A regenerative approach to business involves a strategy that promotes the restoration and regeneration of natural resources and social systems. It goes beyond sustainability and seeks to create positive impacts on the environment, society, and the economy."

-"Let's talk about 'regenerative business' not sustainability," Oliver Dudok van Heel, World Economic Forum, March 27, 2023
Join journalist Esha Chhabra and Greg Warman of ExperiencePoint for a hands-on workshop in design thinking, showing how business leaders can use restoration and regeneration as a model for business innovation. The afternoon will begin with a keynote by Esha Chhabra sharing the insights of her book Working to Restore: The Power of Regenerative Business to Heal the World." This will be followed by a followed by a workshop led by Greg Warman where the participants will be trained in ideation and prototyping applied to regenerative business practices. The 90 minute workshop will provide learning, ideation and prototype application on the Creative Habits of Design Thinkers. Five elements of the workshop will include:
"Creative Habits" Introduction
Inspire New Thinking
Imagine Solutions
Implement New Ideas
Session Debrief
Speakers
Esha Chhabra
Esha Chhabra has been a writer and journalist focused on global development, the environment, and business for over a decade. Her work has appeared in the New York Times, Economist, Guardian, Forbes, The Washington Post, Fast Company, Wired, and more. She goes beyond the greenwashing to determine if companies are actually pushing the needle. Her work has been supported by the UN Foundation and the Pulitzer Center in Washington, DC. Esha is a graduate of Georgetown University and the London School of Economics and Politics Science. Delhi-born, she calls Southern California home.
Greg Warman
ExperiencePoint co-founder Greg Warman believes every organization has the ability to innovate if they can awaken the problem-solving capabilities that exist in their people. He believes that design thinking — a human-centered approach to innovation that leverages empathy and experimentation to arrive at breakthrough solutions — is the key to making that happen.
Warman has dedicated the past two decades of his career teaching leaders and people at Fortune 500 companies, government agencies, and global non-profits how to leverage human-centered thinking to unlock innovation capabilities, drive transformation and customer-centricity, and to imagine new solutions to complex problems. He's introduced this mission-critical approach and toolkit to teams at Google, Ford Motor Company, Habitat for Humanity, the U.S. Air Force and many more of the world's leading and most innovative companies.
Warman's passion for teaching design thinking began early in his career. After receiving his bachelors of commerce honours from Queen's University in Canada, he pursued courses in design thinking at Stanford University's renowned d.school and earned a master's degree in Learning Design and Technology from its Graduate School of Education.
The d.school was founded by David Kelley — a global leader in design thinking — who also founded the global design and innovation company, IDEO. While at Stanford, Warman landed an internship at IDEO, and later developed a partnership between ExperiencePoint and IDEO that continues to this day.
When he's not teaching, Warman spends his time brainstorming how to get people to Mars with his wife, a NASA Mars researcher, or how to get their children to and from their many sports activities in the San Francisco Bay Area where they live.
Sponsors


Archives
To see recordings of previous symposiums: