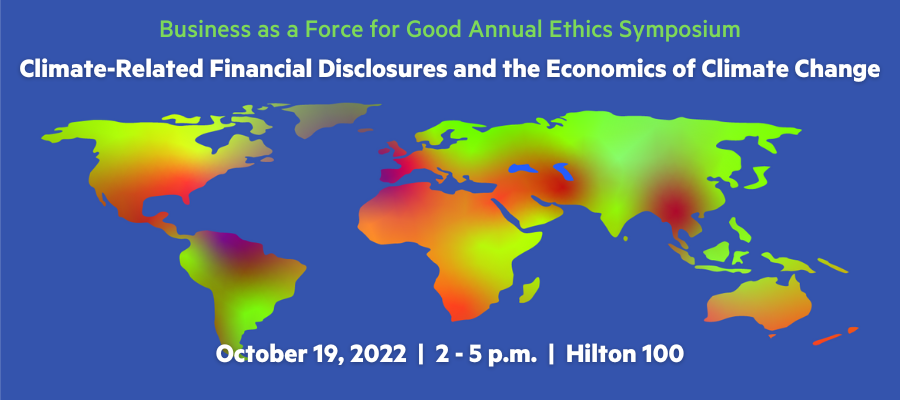 In March 2022, the SEC proposed new climate-related disclosure rules that would require public companies to report the prospective risks and material impacts of climate change on business, strategy and outlook. These disclosures include greenhouse gas emissions and the financial impact of severe weather events.
In October 2022, we heard from industry leaders as they examined the new rules, identified stakeholders and discussed the economic impacts of climate change. Please see below for recordings and bio of each guest speaker.
A New Moonshot: The Economics of Climate and Investor Engagement
Tom Soto, Impact Investor and Entrepreneur

Sustainability and Finance: Global Imperatives and Corporate Strategy
Brad Sparks, Executive Director, Accounting for Sustainability (A4S)

Climate Risk and Disclosure: The SEC Proposal
Jason Ballentine, Director, ESG & Climate Advisory, KPMG

ESG Reporting: Tools for Data Capture and Reporting
Ellis Rosenberg, Managing Director, FiscalNote

ESG Reporting: Like Financial Reporting – and Not
Douglas Hileman, Douglas Hileman Consulting, LLC

Sustainability Leadership: Managing Risk and Opportunity (panel)
Dominique Hargreaves '04, Director, Sustainability and CSR, American Realty Advisors
Lawrence Kalbers, Ph.D., CPA, Associate Dean and R. Chad Dreier Chair in Accounting Ethics, LMU

Incentivizing Sustainability: An Example from the Energy Industry
Richard Thorpe, CEO of mPhase Technologies, Inc.
Speakers
Jason Ballentine
Director ESG & Climate Advisory, KPMG US
Bio for Jason Ballentine
Dominique Hargreaves '04
Director, Sustainability and Corporate Social Responsibility
American Realty Advisors
Bio for Dominique Hargreaves
Douglas Hileman
FSA, CRMA, CPEA President, Douglas Hileman Consulting LLC
Bio for Douglas Hileman
Lawrence Kalbers, Ph.D., CPA
Associate Dean, Faculty and Academic Programs
Loyola Marymount University
Bio for Lawrence Kalbers
Ellis Rosenberg
Managing Director, Fiscal Note
Bio for Ellis Rosenberg
Dayle Smith
Ph.D., Dean, College of Business Administration
Bio for Dayle Smith
Tom Soto
Founder and Managing Partner, Latimer Partners, LLC
Bio for Tom Soto
Brad Sparks
Executive Director, Accounting for Sustainability
Bio for Brad Sparks
Jeff Thies
Director, Institute for Business Ethics and Sustainability
Bio for Jeff Thies
Richard Thorpe
CEO of Pebble
Bio for Richard Thorpe
Sponsors

Archives
To see recordings of previous symposiums: