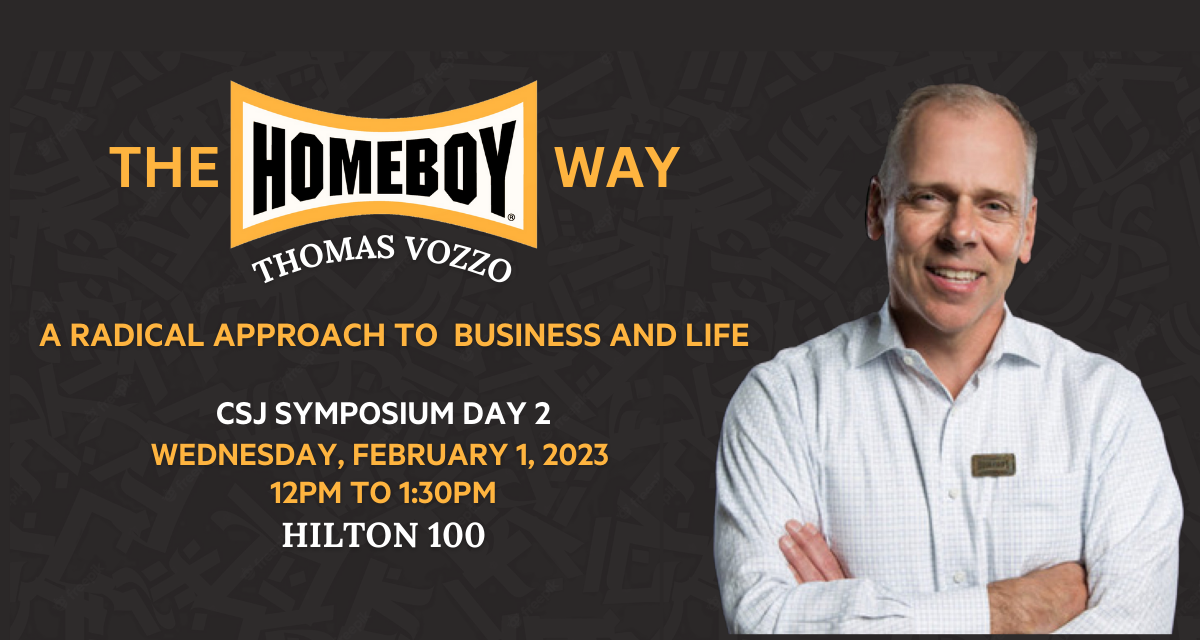 As part of the 2023 CSJ Center Symposium and co-Sponsored by the Institute for Business Ethics and Sustainability, Tom Vozzo, CEO Homeboy Industries, will present the topic of his book "The Homeboy Way: A Radical Approach to Business and Life." Tom is a former senior executive from Aramark Corp. His book is a reflection on leadership and organizational life designed to impact lives as he has learned "The Homeboy Way."
Leading with heart, authenticity and purpose, Thomas Vozzo provides a clear path to a new bottom line—including 55 rules to break—bringing the Homeboy Way to life as the perfect anecdote to the massive tidal currents of social injustice and inequities.
Don't miss out on this enlightening and inspiring event!
Past Events
The College of Business Administration regularly organizes movies and presentations that highlight the role that businesses can take as a force for good in the global economy. The movie screenings are followed by a group discussion facilitated by special panelists with expertise in the practice areas.
The National Integrated Drought Information System (NIDIS) reports that 99.76% of California is experiencing moderate to exceptional drought. California's Sierra Nevada Mountains Watershed, which supplies water to more than 75% of California, has been neglected and mismanaged for decades, according to the Little Hoover Commission. Further compounding the issues is the climate crisis that has impacted the forest ecosystem and snowpack.

LMU's Institute for Business ethics and Sustainability and the Center for Urban Resilience (CURes) organized a special screening of "California's Watershed Healing" (view trailer), on 16th November, a documentary that sheds light on the current conditions of California's forests and viable solutions that can be implemented immediately for sustainable land management and restoration of the Sierra Nevada Watershed. After the screening, executive director James Thebaut engaged in a panel discussion with audience Q&A.

James Thebaut, President and Founder, The Chronicles Group
Doug Walters, Chief Sustainability Officer and Chief Resiliency Officer, City of Los Angeles
Eric Strauss, LMU President's Professor of Biology and Executive Director, Center for Urban Resilience

As sustainability becomes an urgent call to action, the entertainment industry has played an important role in not only raising awareness through storytelling but taking proactive steps to advance green production and become more green in its practices.

The Institute for Business Ethics and Sustainability presented "A Close Up on Sustainable Entertainment: Dialogue with Industry Leaders with Global Impact." On Wednesday, March 16. Zena Harris from Green Spark Group, Lydia Dean Pilcher from Green Production Guide, and Anna Jane Joyner from Good Energy Project shared the North American film industry's initiatives to raise awareness and reduce its carbon footprint.

*This series ws part of the course curriculum for Globally Responsible Leadership For Sustainable Transformation, a graduate-level class collaboratively taught by 7 universities across the globe, and designed to accommodate the schedules of international participants.

Corporate Responsibility & Global Business - A conversation with Jennifer Leitsch, VP, Corporate Responsibility at CRBE

Discussion with Patrick Temple-West, journalist with Financial Times Moral Money series, which explores the fast-growing, international shift towards Environmental, Social, and Governance (ESG) investing.

February 25, 2020 - Troubled Waters

January 28, 2020 - MissRepresentation

November 19, 2019 - Sustainable Alumni Businesses (presented in conjunction with Global Entrepreneurship Week)

October 29, 2019 - The True Cost

April 23, 2019 - A New Economy

March 26, 2019 - Soufra

February 26, 2019 - Drug Short

January 22, 2019 - Payday

November 27, 2018 - Cartel Bank

October 23, 2018 - Backfired: When VW Lied to America