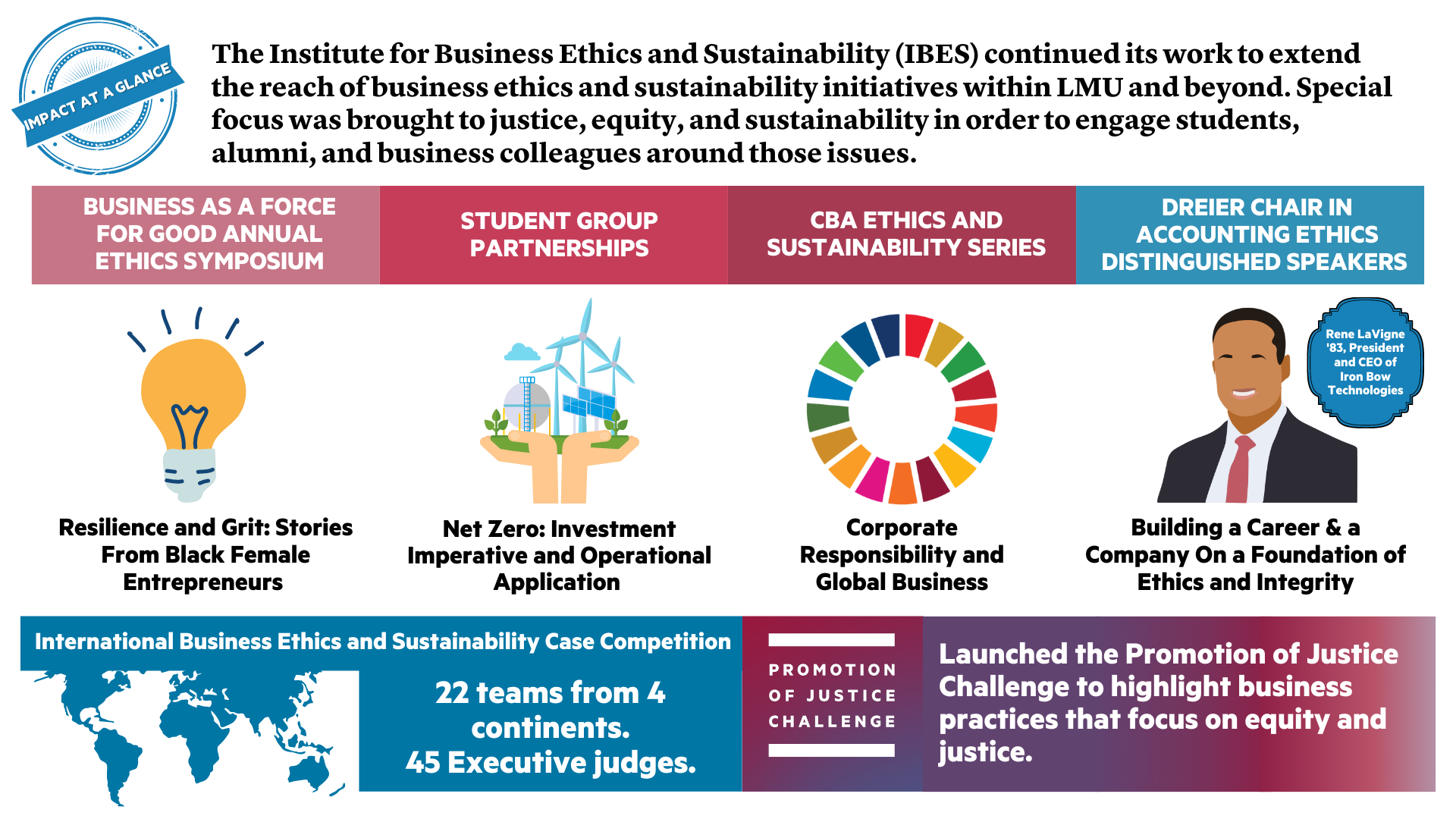 Message from the Director
Dear Friends,
It is my honor to report on the outstanding growth and influence of LMU's Institute for Business Ethics and Sustainability (IBES). IBES aims to be a center of excellence that promotes ethical reasoning and principled business leadership, with an emphasis on advancing sustainable development and the United Nations' Sustainable Development Goals (SDGs).
During this past year, IBES has strengthened its core initiatives, meaningfully engaged the significance and impact of both Covid-19 and the demands for racial justice, and has expanded its network of collaboration and partnerships to inform the work of the institute moving forward.
Highlights
Submitted on behalf of CBA our inaugural

Sharing Information on Progress Report

as a signatory to the United Nation's

Principles for Responsible Management Education (PRME).
Oriented program content to honor the IBES Statement of Solidarity with Black Lives Matter:




IBES, expressing the mission and values of the College of Business Administration, stands in solidarity with Black Lives Matter and those calling for justice in our society and our world. We also stand in solidarity with the multiple voices of business leaders who recognize the social responsibility of business and the unique role business has at this time to be a force for good:

Dreier Chair in Accounting Ethics Distinguished Speaker Series,

which presented corporate best practices in DEI leadership

The

Business as a Force for Good

Annual Ethics Symposium,

which hosted

"Resilience and Grit: Stories from Black Female Entrepreneurs"

Reset the Room,

a student-led quarterly program developed in response to the annual symposium

The

Promotion of Justice Challenge

pilot program

,

in which student teams

us

e

media arts to tell stories of business practices

that

advanc

e j

ustice and equ

ity
Transitioned the

International Business Ethics and Sustainability Case Competition

(IBESCC)

to a virtual format. Dozens of schools across the globe partook in this annual competition, implementing ethical reasoning to business matters and their influence on the goals of the SDGs.
Significantly

expanded

our network of partnerships to inform and strengthen the work of IBES:

Broadened the relationship of CBA with the Globally Responsible Leadership Initiative

, becoming full partners of this global network, with CBA governance roles on the Board of Trustees and Guardians of the GRLI Council
IBES is also proud to honor and recognize student accomplishments this year:
Christian Jackson and Dezmin Hemmans, from the LMU student group

Brothers of

Consciousness,

received

the PRME Recognition Student Award for Excellence in SDG Impact for the collective impact of their work around equity and justice.

Two student-led groups won 2021 Flourish Prizes for stories about Pacha Soap Co. and Dave – Banking for Humans, profiling their business models and innovations that advance economic prosperity while contributing to a healthy world and human well-being.
With each of these initiatives, our priority has been to:
Emphasize ethics, applied ethics, and ethical reasoning.

Highlight environmental consciousness, social responsibility, and sustainability for the 21st-century

organization.

Generate channels for professional impact, student development, and business collaboration.
We extend our heartfelt thanks to everyone who has participated and collaborated with IBES and look forward to engaging with new supporters!
Jeff Thies
Director, Institute for Business Ethics and Sustainability