We are looking for the next generation of creative marketing strategists, managers, creators, makers and storytellers. The M-School is currently only available to LMU undergraduate students. The M-School has 2 focuses: Strategy/ Management and Content Creation. Take this survey and see which focus may be right for you. See the FAQs below for more information.
The program is tailored for Marketing majors within LMU's College of Business Administration. M-School students are required to take all five M-School courses and are encouraged to enroll in our M-School 1-credit electives too. See below for a list of courses and when they're offered.
Students apply in the fall of their sophomore year to become a part of the two-year cohort program beginning fall of their junior year. Informational sessions will take place in September and October.
The application deadline to join the Fall 2022 M-School cohort will be announced in late summer 2021.
Complete the online application, which includes resume, GPA, focus preference (strategy, content creation or both), statement of interest, and a link to a custom Instagram profile (created for this application process) giving us a sense of what you'll bring to the M-School party (have fun with the IG canvas; take advantage of all that it offers, use words, videos, images and more).
Core Curriculum
Junior Year
Fall Semester
All new cohort (+ seniors who were away): The New World of Branding and Advertising
Optional: Account Management
Spring Semester
Strategy / Management Focus:
Brand Planning & Strategy
Growth Marketing
Content Creation Focus:
Conceptual Brand Thinking
Production Tools & Techniques
Optional: Personal Brand Management (Spring 2022)
Senior Year
Fall Semester
Strategy / Management Focus: Adaptive Media & Analytics
Content Creation Focus: Full-Funnel Content Development
Optional: Account Management
Spring Semester
All: Creative Marketing Studio
Optional: Personal Brand Management (Spring 2022)
Frequently Asked Questions
We love study abroad! Go see the world, taste the tastes, smell the smells, hear the sounds, soak up new cultures, meet new people and bring all of that experience back to the classroom. If you travel abroad during your junior year, you make up the missing course(s) your senior year (Fall semester of your junior year is the best semester for study abroad since you'd only have to make up one course, The New World of Branding and Advertising, your senior year).

LMU has some amazingly diverse, interesting, hard working and talented students and many of them are interested in the M-School. For that reason, the application process to M-School is pretty competitive. Believe us when we say there is no formula for who we select as it entirely depends upon that year's batch of applicants. Our goal is to select the most diverse and complementary group of students that we possibly can so that students learn as much from one another as they do from the instructors and industry pros.

We love people with different skills, talents and ways of looking at the world. For this reason, we welcome non-marketing majors to apply... with the caveat that you need to be certain you are able to take the entire 5-course curriculum in addition to your major's requirements. Be sure to check with your advisor to understand the impact on tuition and timely graduation. Additionally, M-School courses tend to be very demanding; we encourage a healthy dose of self-honesty to determine if you're up to the task.

If you're a freshman, hold your horses until your sophomore year to apply. If you're currently a junior or a senior, there are opportunities to take M-School courses as electives (depending on whether there is room). Complete the M-School Elective Course application if you would like to be considered.

We do our best to turn around applications as quickly as possible, but some registration slots might come before you hear back. If that's the case, register for courses as if you didn't get in. If admitted, we will issue you an override and hold a seat in your first M-School course New World of Branding & Advertising.

The five track specific M-School courses replace the five upper-division electives required for all marketing majors. All M-School students are required to take BCOR 3510 – Marketing & Business Communications. We've found that students who complete this course in their sophomore year are better prepared for what's to come.

We are working to expand our offering beyond undergraduate. Stay tuned for more.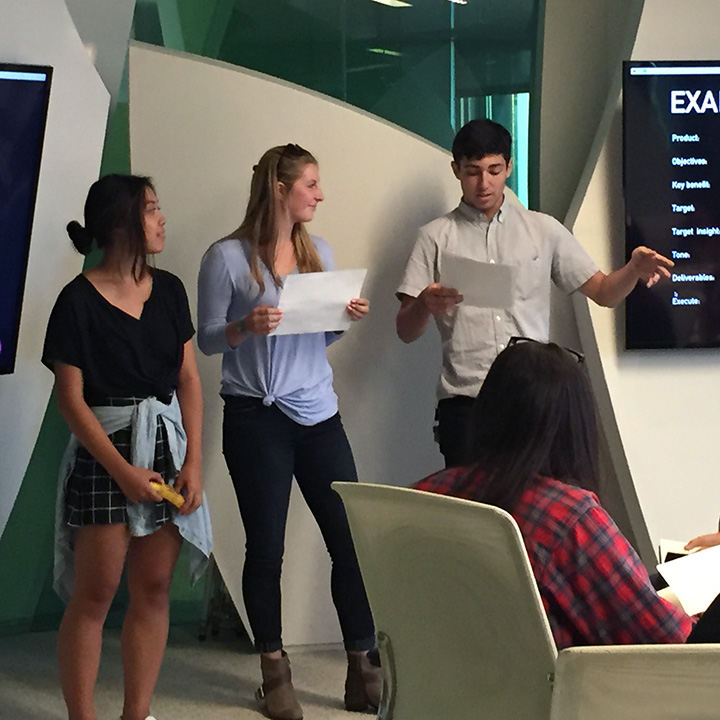 Students
Interested in Applying?