Big news! Were adding an all-new content creation track for fall 2019.
The Details
WHO: We are looking for the next generation of creative marketing strategists, managers, creators, makers and storytellers. The M-School is currently only available to LMU undergraduate students. See the FAQs below for more information.
WHAT: The program is tailored for Marketing majors within LMU's College of Business Administration. The five-course M-School curriculum replaces the five required courses from the traditional marketing major. M-School students are required to take all five M-School courses and are encouraged to enroll in our M-School 1-credit electives too. See below for a list of courses courses and when they're offered.
WHEN: Students apply in the spring of their sophomore year to become a part of the two-year cohort program beginning fall of their junior year. Deadline to apply to join the Fall 2020 M-School cohort is April 5, 2020.
HOW: Complete the online application, which includes resume, GPA, track preference (strategy, content creation or both), statement of interest, and a link to a custom Instagram profile giving us a sense of what you'll bring to the M-School party (have fun with the IG canvas; take advantage of all that it offers, use words, videos, images and more).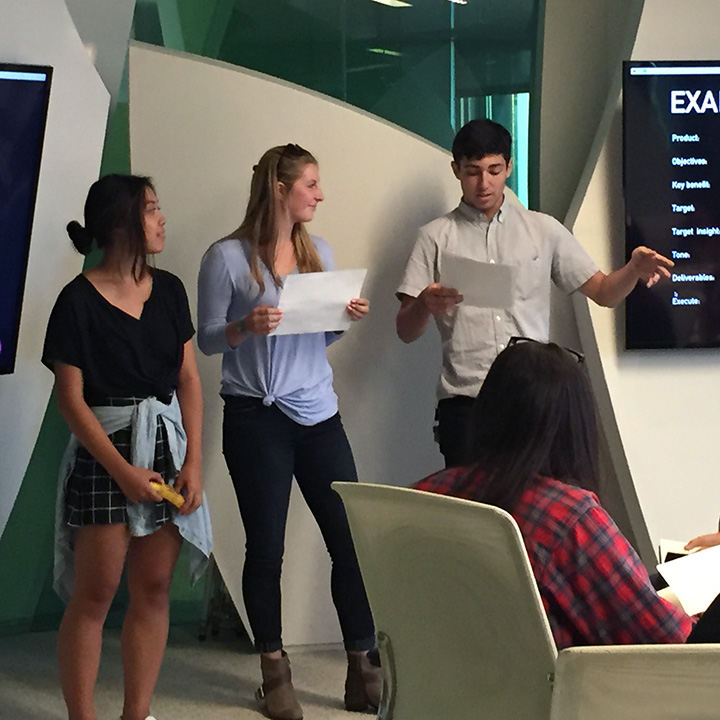 Students
Interested in Applying?
Core Curriculum
Fall / Junior Year
Both Tracks: The New World of Branding and Advertising
Optional: Account Management
Spring / Junior Year
Strategy / Management Track:
Brand Planning & Strategy
Growth Hacking
Content Creation Track:
Conceptual Brand Thinking
Production Tools & Techniques
Optional: Personal Brand Management
Fall / Senior Year
Strategy / Management Track: Adaptive Media & Analytics
Content Creation Track: Instagram: Full-Funnel Content Development
Optional: Account Management
Spring / Senior Year
Both Tracks: Creative Marketing Studio
Optional: Personal Brand Management
Frequently Asked Questions