M-School was born from the need to transform the way our students learn about and are immersed in the new world of advertising and branding. In doing so, we answered the call to action from the advertising and branding community—specifically our close partner, ThinkLA.
Two Distinct Areas of Study
M-School offers two areas of study within the M-School curriculum: Strategy & Brand Management, and Content Creation. See which types of courses are right for you by taking this quiz and reading more about the various roles in creative marketing.
Strategy & Brand Management Focus is on advertising and branding strategy, media planning, account and client management, full funnel and performance marketing (paid search and paid social media).
Content Creation Focus is on creating compelling branded content, learning app development and video pre- and post-production tools and techniques, and how to develop full-funnel content that works throughout the digital/social media landscape. Students with this focus will develop a creative portfolio of their work. This focus is geared towards those who would like to further develop and apply their skills in creative writing, graphic design, video, storytelling, social media, photography, app and website development and more.
Future-Proof & Real-World Ready
The M-School curriculum focuses on what we call the 4Cs — Creativity, Collaboration, Critical Thinking, and Communication — to equip our students with the skills to be future proof and real-world ready. Course content is always current, courses are co-taught by industry professionals, and we've thrown out the proverbial marketing textbook.
Embedded in a Thriving Community
LMU's close proximity to Playa Vista and the thriving Silicon Beach creative and tech community (with over 300 agencies and brands all within a 10-mile radius of LMU) enables us to stay current and develop doers, thinkers, makers, and future leaders by exposing our students to the best in industry.
Innovative Curriculum
We've custom crafted a five-course curriculum along with some supplemental one-credit electives to deliver an intensive and immersive marketing education and experience. The cutting-edge M-School curriculum cultivates creative and passionate students and prepares them to hit the ground running in nearly any marketing, branding, advertising, or start-up role they pursue.
Please take a look at the M-School Info Book (below); to download click here.
Courses Offered
The New World of Branding and Advertising will immerse you in the creative marketing industry--from branding to advertising, from what people do to what career opportunities exist. You will develop the skills needed to succeed in future internships and full-time positions. This flagship and foundational M-School course will provide an extensive look into the world of modern marketing by enabling a look inside many of LA's top agencies and brands and direct experience with the Marketing for Good project. You will learn firsthand from industry leaders about what they do to stand out and win in the increasingly complicated and challenging world of advertising and branding.

Instructors: Andy Rohm and Matt Stefl

Skills gained:

Apply the human-centered design process to create a new product or campaign from the ground up;
Conduct human-centered research and generate and report actionable insights (critical-thinking);
Enhance communication skills centered around pitching and defending ideas;
Become skilled at working collaboratively in teams;
Develop skills in giving and receiving constructive feedback;
Learn about the creative marketing industry (company types, work, roles) and cultivate an industry mentor relationship
Manage real money and real budgets to launch a new initiative;
Develop new habits for happiness and well-being.

Prerequisite: MRKT BCOR 3510

Think about your favorite companies and their brands. What is it about them that makes them connect with you? That's what this course is all about—learning about the brand planning and strategy process. This course offers a comprehensive look at where strategic planning takes place within the overall advertising process. In doing so, it focuses on the 4Cs of strategic planning: the Company, Competition, Consumers, and (product or service) Category. It also explores ways to develop effective campaign strategy, including knowing the product inside and out, knowing your brand's DNA, understanding your target audience, and generating insights. In addition, the course covers important branding and consumer behavior fundamentals central to the success of account strategy.

Instructor: Matt Stefl

Skills gained:

Strategic Planning Process
4C's Situation Analysis (category, competitive, consumer, culture)
Qualitative Research (design, implementation, reporting)
Insight generation
Target development / Consumer portrait
Simmons Syndicated (generate and read crosstab)
Positioning
Creative Brief Development and Briefing

Conceptual thinking is what separates a marketing content maker from a designer. In this course, students compare and contrast world-class creative content, develop a perspective on what is necessary in today's complex marketing environment and craft conceptual ideas, receiving peer and industry feedback. These concepts will be added to a portfolio of work.

Instructor: Michael Kadin

Skills gained:

Conceptual Thinking
Ability to uncover and highlight product features, benefits and attributes
Digital portfolio of creative work
Storytelling that explores a variety of tones, appeals and creative spring boards
Ability to generate a Big Idea and build a fully-integrated campaign within it
Respond to a variety of creative briefs
Pitch, defend and improve upon

The motto of this course is cheap, fast and good. Long gone are the days of the $500,000 commercial production. Today's creative marketers are tasked to make great content, at a lightning-fast pace and for less money than ever before. This course will expose students to tools and techniques of creative content production and challenge students to create branded content that breaks through. Outputs from this course will play an important role in helping you develop a portfolio of your creative work.

Instructors: Levi Brooks and Andy Rohm

Skills gained:

Graphic design fundamentals (typography, color, layout)
FIGMA collaborative interface design software
App development (user experience and interface design, user testing, wireframes)
Development of a clickable prototype
Video pre-production skills (storyboards, beat sheets, shot planning)
Video post-production skills (editing)

In advertising, developing the right brand positioning and creative message is only half the battle. Now it's time to get that message in front of enough of the right people to have a clear and measurable impact on your business. This is where media planning and analytics comes in.

This course will give you the skills to develop a full 360-degree media plan encompassing all media channels, from television to search engine marketing and everything in between. Brands need to stay relevant in an increasingly competitive marketplace, and it's important for these brands to create, monitor and adjust their campaigns and media plans in real time. This course pays particular attention to all forms of digital media and the associated data and technology that enable it. Digital media has allowed marketers to be very precise in targeting customers, optimizing campaigns in real time, and measuring the impact of these efforts on business growth. As such, digital media and how to measure its impact will be a major focus of this course. We will explore all forms of traditional and digital advertising, from display ads through video content, delivered on a desktop or mobile device, and delivered through search, social, and programmatic channels.

Instructors: Paul Santello and Olivia Lioi

Skills gained:

Learn to strategize and plan effective media campaigns;
Utilize tools and techniques for efficient and effective audience reach;
Learn how analytics (monitoring, measuring, and interpreting digital campaign data) helps companies, brands, and organizations to better evaluate advertising and marketing performance.

The number of ways people learn about and purchase products and services continues to increase. Yet most people follow similar paths as shoppers - consumers become aware of the brand or product, conduct research, buy, experience what they bought, and ultimately, evaluate if that was a worthy purchase. In short, we all go through marketing funnel, from awareness at the top of the funnel to purchase and post-purchase behavior at the bottom.

The job of someone responsible for engineering these experiences is to make this purchase path as short and efficient as possible. Marketers don't want to spend money on ads just to see shoppers leave their websites and abandon their shopping carts.

In this course you will learn about the marketing funnel and how to provide the right content to customers at the time they're looking for it. In the course, you will gain valuable experience creating content for each stage of the funnel.

Instructor: Anastasia Petukhova

Skills gained:

Plan and execute content for the entire marketing funnel;
Leverage the Customer Decision Journey (CDJ);
Develop strategic content for Instagram and other social media platforms, email (visuals and copy), branded blogs, short-form video, eCommerce and more.

In this final capstone course, students will create entries to compete (and hopefully WIN) the Effie's Collegiate Brand Challenge. Teams will develop a strategy and creative work in response to a marketing challenge for a global client brand. Past brands have included Bose and Pernod Ricard. The Effie's Collegiate Brand Challenge culminates with selected finalists pitching their ideas in person to the client brand. Throughout the semester, teams work weekly on research, strategy, creative elements, communications and media recommendations, measurement plan, mutual critique sessions and feedback from course faculty and industry mentors.

Instructors: Andy Rohm, Matt Stefl & Bernice Chao

Mike Peditto and Andrew DuBois, superstar Brand Management duo, return each fall to teach the famed 1-credit Account Management course. Whether or not you are interested in account management as a career (or if you aren't even sure), this course will help you in every aspect of your work life. The content is fresh. The lessons are relevant. And the professors are dialed-in and hilarious.

Instructors: Mike Peditto & Andrew DuBois

In this course, students will:

Understand the hard and soft skills of creative brand account management;
Discover what can set you apart and excel during your first year as a professional;
Gain a greater sense of self-awareness as a working professional and how to discover and apply your unique perspective to your job.

This course covers the essential principles of marketing as a vital component of a business operation, emphasizing marketing's strategic bases and the real-world utilization of both traditional and innovative techniques to influence both the trade and the consumer in making a purchase decision. We will focus on the effects of uncontrollable factors in the environment. In addition, basic controllable variables essential to marketing success will be examined including market analysis, product decisions, pricing, distribution, and promotion. We will explore how Marketing guides business strategy, discovers and creates demand for products, and influences product development.

Instructors: Matt Stefl, Scott Leonard and others

Marketing Creativity Tools is led by industry pro and Use All Five founder Levi Books. This 1-credit SPARK Elective course focuses on current design tools, principles and theories used in marketing. Tools might include Adobe Suite, Sketch and more.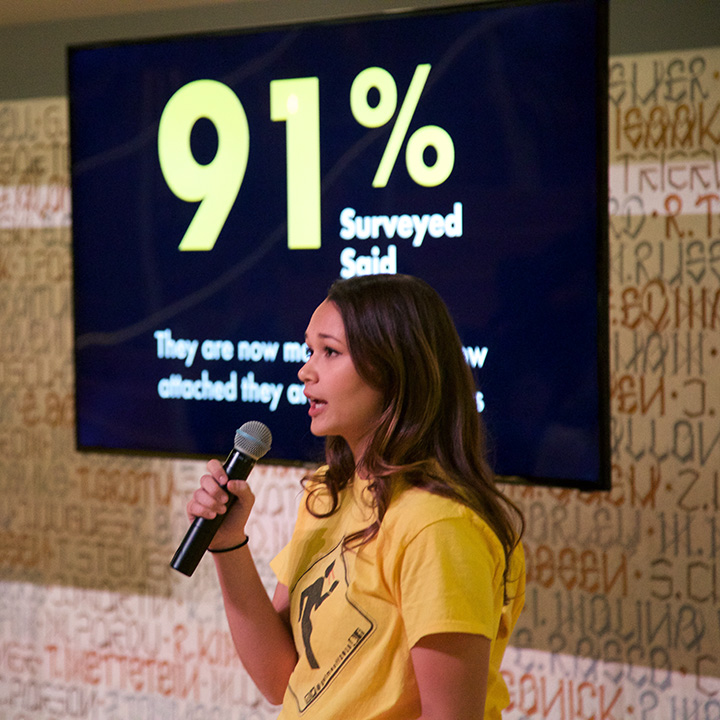 Students
Interested in Applying?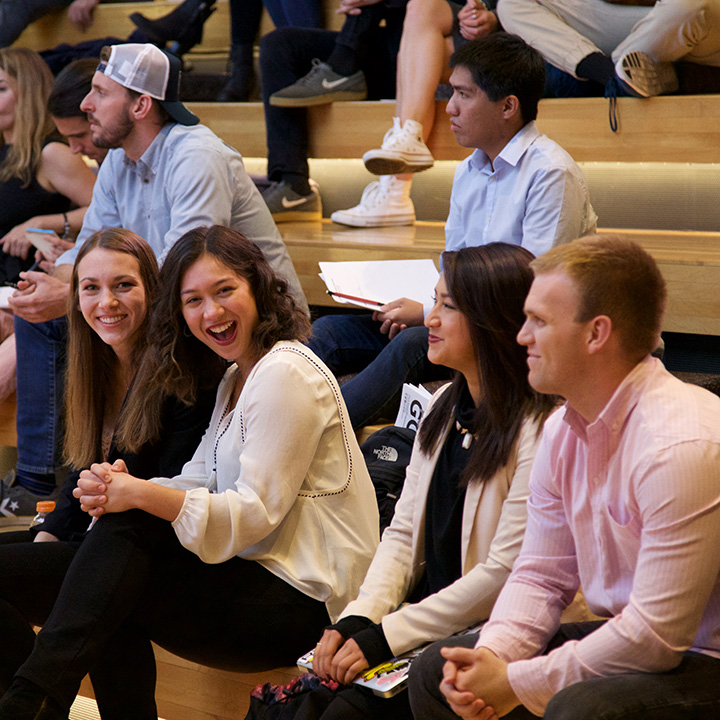 Industry Pros
Find out how you can contribute by sharing your experiences!