M-School was born from the need to transform the way our students learn about and are immersed in the new world of advertising and branding. In doing so, we answered the call to action from the advertising and branding community—specifically our close partner, ThinkLA.
Two Distinct Focuses of Study
New as of Fall 2019, M-School offers two focuses of study within the M-School program: Strategy & Brand Management, and Content Creation. See which focus is right for you by taking this quiz and reading more about the various roles in creative marketing.
Strategy & Brand Management Focus is on advertising and branding strategy, media planning, account and client management, growth hacking and performance marketing (paid search and paid social media).
Content Creation Focus is on creating compelling branded content, the pre- and post-production tools and techniques, and how to develop full-funnel content that works throughout the digital/social media landscape. Students with this focus will develop a creative portfolio of their work. This focus is geared towards those who would like to further develop and apply their skills in creative writing, graphic design, video, storytelling, social media, photography, website development and more.
Future-Proof & Real-World Ready
The M-School curriculum focuses on what we call the 4Cs — Creativity, Collaboration, Critical Thinking, and Communication — to equip our students with the skills to be future proof and real-world ready. Course content is always current, courses are co-taught by industry professionals, and we've thrown out the proverbial marketing textbook.
Embedded in a Thriving Community
LMU's close proximity to Playa Vista and the thriving Silicon Beach creative and tech community (with over 300 agencies and brands all within a 10-mile radius of LMU) enables us to stay current and develop doers, thinkers, makers, and future leaders by exposing our students to the best in industry.
Innovative Curriculum
We've custom crafted a five-course curriculum along with supplemental one-and two-credit electives to deliver an intensive and immersive marketing education and experience that cultivates creative and passionate students and prepares them to hit the ground running in nearly any marketing, branding, advertising, or start-up role they pursue.
Please take a look at the M-School Info Book (below); to download click here.
Courses Offered
This foundational course immerses you in the fast-changing world of the advertising and branding industry through on-campus and off-campus exposure to industry professionals and real-life branding and advertising challenges. Throughout the course, you'll work with and learn from professionals in the thriving creative and tech community. Emphasis is on developing your skills in creativity, collaboration, critical thinking, and communication. Content covered in the sessions includes advertising agency structure, the creative process, brand planning, media planning and strategy, the user experience, online and social media, presentation skills, and content creation. (FALL)

Instructors: Andy Rohm and Matt Stefl

Skills gained:

Primary and secondary research
Disruption process
Design-Thinking / Human-Centered
Design (problem framing, friction, rapid ideation, prototyping)
Product Development
Budget Management
Go To Market (GTM) Activations
GTM Campain KPIs and Measurements

Prerequisite: MRKT BCOR 3510

Think about your favorite companies and their brands. What is it about them that makes them connect with you? That's what this course is all about—learning about the brand planning and strategy process. This course offers a comprehensive look at where strategic planning takes place within the overall advertising process. In doing so, it focuses on the 4Cs of strategic planning: the Company, Competition, Consumers, and (product or service) Category. It also explores ways to develop effective campaign strategy, including knowing the product inside and out, knowing your brand's DNA, understanding your target audience, and generating insights. In addition, the course covers important branding and consumer behavior fundamentals central to the success of account strategy.

Instructor: Matt Stefl

Skills gained:

Strategic Planning Process
4C's Situation Analysis (category, competitive, consumer, culture)
Qualitative Research (design, implementation, reporting)
Insight generation
Target development / Consumer portrait
Simmons Syndicated (generate and read crosstab)
Positioning
Creative Brief Development and Briefing

Conceptual thinking is what separates a marketing content maker from a designer. In this course, students compare and contrast world-class creative content, develop a perspective on what is necessary in today's complex marketing environment and craft conceptual ideas, receiving peer and industry feedback. These concepts will be added to a portfolio of work.

Skills gained:

Conceptual Thinking
Ability to uncover and highlight product features, benefits and attributes
Digital portfolio of creative work
Storytelling that explores a variety of tones, appeals and creative spring boards
Ability to generate a Big Idea and build a fully-integrated campaign within it
Respond to a variety of creative briefs
Pitch, defend and improve upon

The motto of this course is cheap, fast and good. Long gone are the days of the $500,000 commercial production. Today's marketing creators are tasked to make great content, at a lightning-fast pace and for less money than ever before. This course will expose students to tools and techniques of creative content production and challenge students to create branded content that breaks through. Outputs from this course will be added to a portfolio of work.


Skills gained:

Graphic design fundamentals
Director's treatments
Storyboard development
Pre-production skills (storyboards, shot planning)
Post-production skills (editing)

Start something from nothing with nothing.

It's one thing to build a brand with a large budget and lots of resources. It's another thing to build a brand from scratch. In this course students will learn the scrappy yet strategic art of entrepreneurial marketing.

This course, is a hands-on, applied and practical overview of the various tips, tricks, tools and techniques to help organizations of all sizes scale quickly and efficiently when every penny counts.

Skills gained:

Project management tools like Trello
Growth Mindset
Strategies and tactics for email, marketing automation, crowdfunding and more
Content development process (treatment, storyboard, pre- and post-production)

Because of the rapid growth and influence of advertising technology and online / social media, to remain relevant, brands must create, monitor, and adjust their message and media not by the month but by the day, by the hour, even the fraction of a second. To effectively reach and engage individuals, brands need to be agile and adapt in real time to how consumers react and respond to advertising content. This course provides students the perspectives and tools to develop paid search (search engine optimization, or SEO) and paid social strategies that are effective, cost efficient, adaptive, and measurable. Through this course, students will learn how analytics (monitoring, measuring, and interpreting online and social data) helps companies, brands, and organizations to better evaluate advertising and marketing performance. (FALL)

Instructors: Andy Rohm, Matt Stefl, Jeff Pickett and Isaac Pastrana

Skills gained:

Paid Search and Social (Adwords, Facebook)
Google Adwords, Facebook and Instagram campaign creation and execution
A/B testing and optimization
Tagging and Tracking (Google Tag Manager)
Google Analytics

Today's media ecosystem is incredibly complex and ever-changing. Instagram, for example, is a cornerstone mobile marketing channel that can make or break a brand. Students will learn the art and science of building brands and generating sales on digital platforms by evaluating and crafting comprehensive marketing campaigns within this fully-enabled ecosystems. Outputs from this course will be included in a portfolio of work.

No one individual can craft a comprehensive and well-executed creative marketing campaign, it takes a team of experts all coming together. This capstone course brings together M-School Seniors and forms agile teams to tackle tough marketing problems. Groups will exercise learning from each course they've taken in an effort to enter (and hopefully win) nationally recognized creative marketing competitions. Outputs from this course will be included in a portfolio of student work.

Who are you? And how to you bring you, the best you, to the job market? How will you standout from the herd of a thousand "me too" resumes and job candidates all telling the same "me too" stories and making the same "me too" mistakes? This fast-paced, intimate and illuminating workshop isn't for the faint of heart. It will require an open mind, courage and creativity. Aside from a getting a better sense of who you (really) are, you will also leave with a collection of cohesive, well-packaged and engaging Brand You materials that will help you to show the world what makes you different – and better. Be prepared to work hard; the outputs of the workshop will include a personal brand brief, style guide, website, case studies, resume, interview practice and more. (SPRING, LIMITED ENROLLMENT)

Instructor: Matt Stefl

This course is designed to provide students a better understanding of what to expect, and what is expected of them in account management. You'll learn what it means to be a professional and how to survive and thrive during your first year as an account manager. (FALL)

Instructors: Mike Peditto and Andrew DuBois

Creativity is high in demand and short in supply, especially when you need it most. Turns out it's not nearly as mysterious as most people think. There are proven methods to boost your creativity and generate better ideas. This course provides a look into the art and science of creativity and offers students a variety of tools that will serve them in virtually any role—from manager to creator. And be prepared to make stuff—the course has a multi-media maker component to stretch your imagination in all sorts of ways. (FALL)

Instructors: Matt Stefl and Mitch Malpartida

Virtual reality (VR) technology is at an inflection point. On one hand, it's exploding. In 2016 Wired Magazine wrote, "All the major players—Facebook, Google, Apple, Amazon, Microsoft, Sony, Samsung—have whole groups dedicated to artificial reality, and they're hiring more engineers daily. Facebook alone has over 400 people working on VR. Then there are some 230 other companies, such as Meta, the Void, Atheer, Lytro, and 8i, working furiously on hardware and content for this new platform." On the other, it's still very much in its awkward adolescent years–figuring out who it wants to be when it grows up. The future is yet to be written. The course explores emerging field of virtual and augmented reality by exposing students to industry leaders, cutting-edge tech, tools, applications and approaches and challenge cross-discipline teams–consisting of students from entrepreneurship, marketing, graphic design, computer science and film–to apply these learnings in the development of their own VR content. Yes, we're going to make VR. Prepare to be inspired, too, because we will visit leading companies and hear from visionary speakers almost every week. (FALL, 2-UNITS)

Instructors: Logan Mulvey and Matt Stefl

This course covers the essential principles of marketing as a vital component of a business operation, emphasizing marketing's strategic bases and the real-world utilization of both traditional and innovative techniques to influence both the trade and the consumer in making a purchase decision. We will focus on the effects of uncontrollable factors in the environment. In addition, basic controllable variables essential to marketing success will be examined including market analysis, product decisions, pricing, distribution, and promotion. We will explore how Marketing guides business strategy, discovers and creates demand for products, and influences product development.

Instructors: Matt Stefl, Scott Leonard and others

Marketing Creativity Tools is led by industry pro and Use All Five founder Levi Books. This 1-credit SPARK Elective course focuses on current design tools, principles and theories used in marketing. Tools might include Adobe Suite, Sketch and more.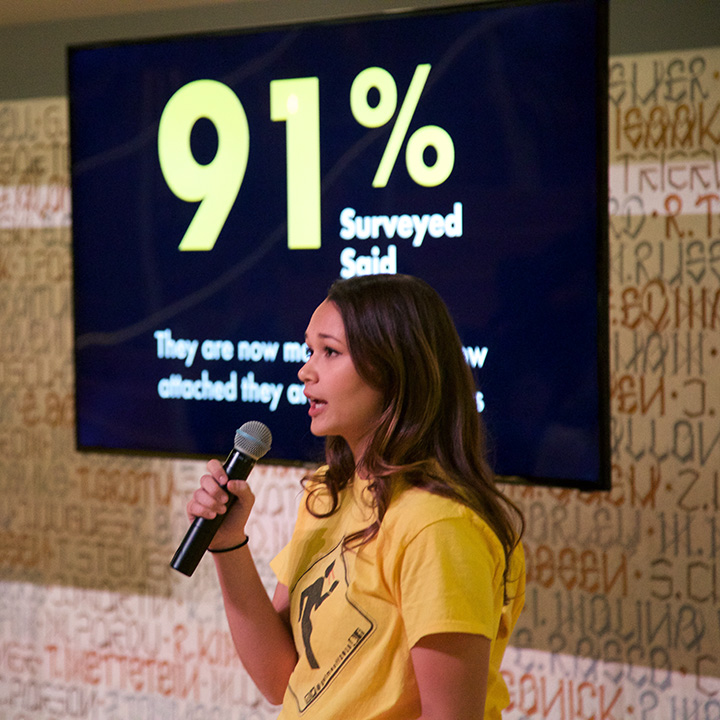 Students
Interested in Applying?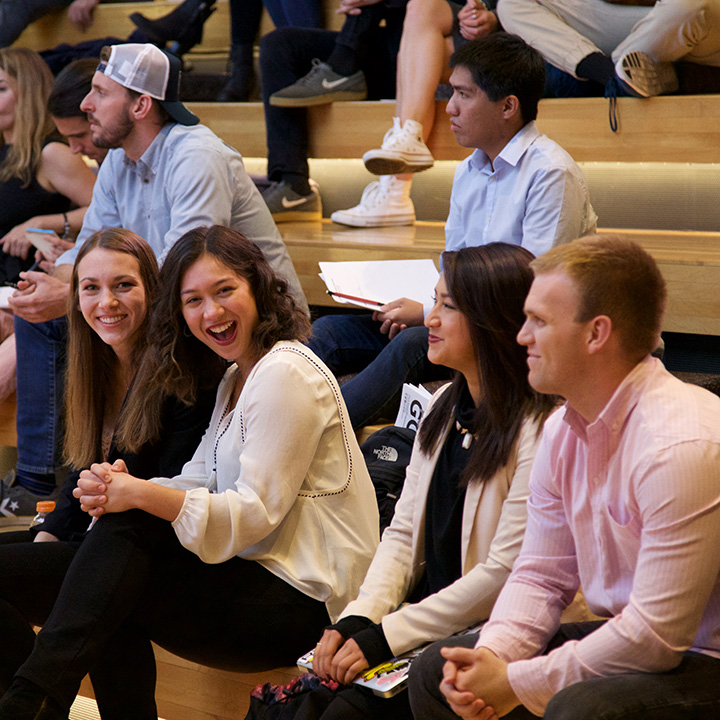 Industry Pros
Find out how you can contribute by sharing your experiences!