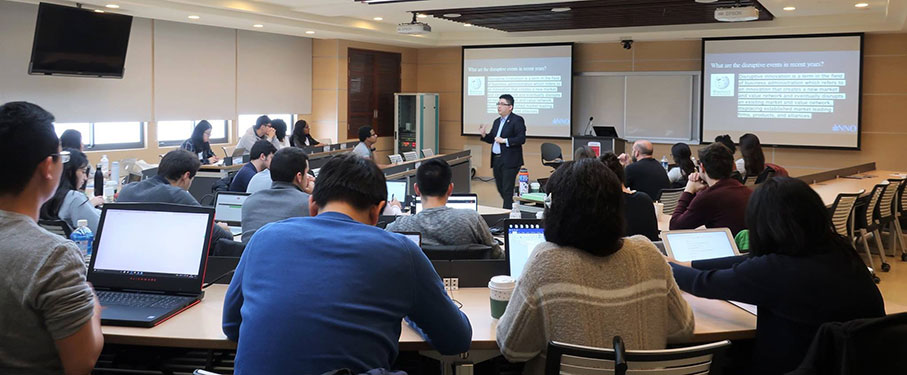 Cross-cultural. Progressive. Transformative.
The Joint Master in Global Entrepreneurial Management curriculum provides students with skills and experiences needed to manage the challenges of a fast-paced, changing global economy, focusing on entrepreneurial activity and innovation. Our program delivers a truly hands-on experience through global immersion, consulting projects for real clients and a master's thesis in the form of a business plan.
Learning Outcomes
Graduates of the Joint Master in Global Entrepreneurial Management will:
Demonstrate the competence to operate effectively within a multicultural team and manage a diverse workforce to maximize organizational performance.
Apply the professional and ethical responsibilities and skills of a global manager with an entrepreneurial mindset.
Communicate effectively both verbally and in writing, using different media and settings.
Demonstrate and apply cross-cultural competence in different managerial and entrepreneurial settings.
Select and analyze financial information to make effective managerial decisions.
Identify information technology trends and developments and utilize those for effective managerial decision-making.
Experiential and Immersive
The MGEM program is comprised of 3 modules across 3 universities for a total of 36 units. You will enroll in 4 courses and complete a consulting project or master's thesis at each institution. Each module focuses on certain areas of study based on the institution's strengths and geographic location.
September–December: IQS School of Management (Barcelona, Spain)
Global Environment and Business Trends
Technology Appreciation and Intellectual Property Management
Cross-Cultural Management and Ethical Business Practice
Common Ground in Corporate Valuation and Accounting
Consulting Project — Multi-National Corporation: Work closely with IQS faculty and a European company operating in the global market to complete a consulting project, focused on a particular problem identified with the company.
January–April: Fu Jen Catholic University (New Taipei City, Taiwan)
Operations Management and Supply Chain Management with a Global Perspective
Corporate Finance with a Global Perspective
Innovation Technology Management
Global Competitiveness, Entry Barriers and Strategic Alliance
Master's Thesis — Research of Special Topics in Global Entrepreneurship & Management: Develop a robust operational plan for an entrepreneurial firm via primary and secondary research. Coursework will include developing vision and mission, assessing the competitive environment, formulating venture concepts and growth strategies, creating marketing approaches, building a cohesive management team, launching operations and developing financial projections.
May–August: Loyola Marymount University (Los Angeles, United States)
Cross-Cultural Marketing & Integrated Marketing Communications
Business Analytics in the Global Context
Social Entrepreneurship
Venture Capital, Corporate Entrepreneurship and Micro Finance
Consulting Project — Small to Mid-Sized Enterprise: Work closely with LMU faculty and a Los Angeles company to complete a consulting project, focused on a particular problem identified with the company.