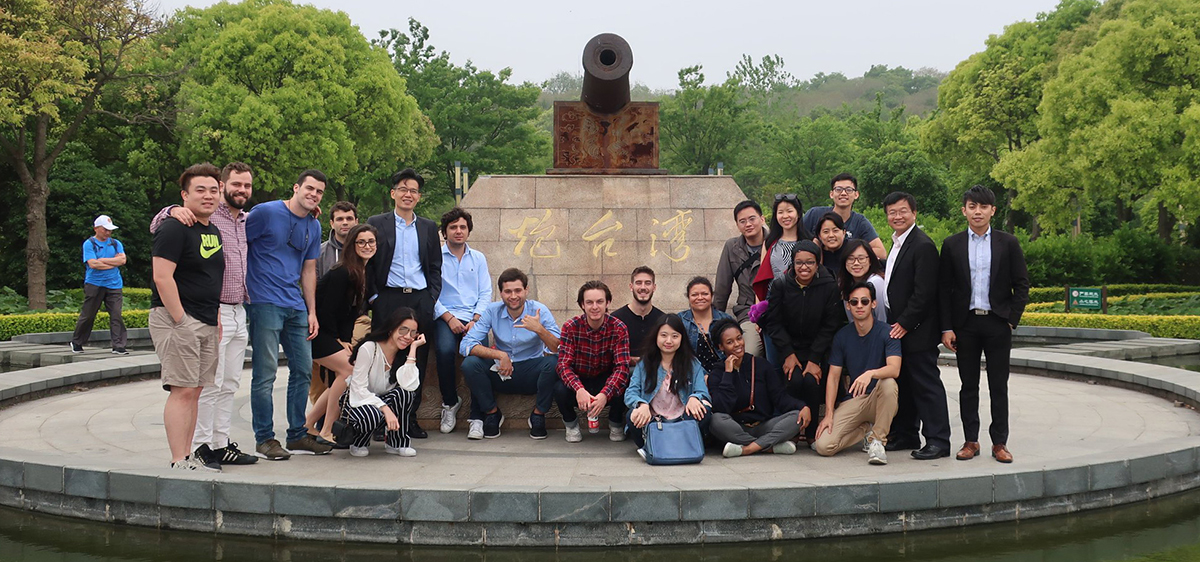 Expand Your View
The Joint Master in Global Entrepreneurial Management (MGEM) transforms how you think about management through courses and experiences that prepare you to lead with an entrepreneurial mindset in a rapidly changing global environment.
Our program is a joint-degree offered by 3 AACSB-accredited universities on 3 different continents in 3 global business centers: IQS School of Management in Barcelona, Spain; Fu Jen Catholic University in New Taipei City, Taiwan and Loyola Marymount University in Los Angeles, United States. You will study in-person at all 3 universities to immerse yourself in each country's culture and business ecosystem. In addition to guest lectures, case studies and team assignments, you will complete 2 consulting projects for real-world clients and conduct multiple site visits with local businesses, big and small.
All partner schools recruit a diverse student body from around the globe, with the majority of our students from countries located in the Middle East, Asia, Europe and the Americas. As a result, you will develop life-long friendships and build a global network composed of peers, professors and successful entrepreneurs. At the end of the program, you will receive a degree from all 3 institutions and be considered an alum of each, with access to all alumni benefits and services.
The Joint Master of Global Entrepreneurial Management:
Prepares students to be passionate, ethical and effective global leaders.
Instills multi-cultural fluency by participation in a culturally diverse student cohort, exposure to multi-cultural and multi-lingual faculty and the opportunity to study in Asia, Europe and North America.
Teaches students the skills necessary to develop a unique idea for a new business or new product and/or service within an existing firm.
Develops students' analytical, entrepreneurial and communication skills by advising companies on how to expand their reach into new markets.
Program Delivery and Schedule
The Joint Master of Global Entrepreneurial Management is a full-time, 12 month program and structured as a cohort with a modular curriculum. Members of your class begin the program at the same time in September and move through the curriculum together, completing the degree requirements for graduation as a group in August. The average cohort is 30–45 students. All courses are conducted in English; no other language proficiency is required.
There are 3 modules across 3 universities. The fall semester is spent in Spain, followed by the spring semester in Taiwan, and the program concludes in the United States at LMU for the summer semester. Housing for all 3 semesters is the student's responsibility; staff at each university are able to assist with recommendations.
Our Southern California Campus
Los Angeles is the creative capital of the world and a global engine of innovation and invention. Aerospace, entertainment, technology, fashion, international finance, biotechnology, manufacturing, marketing — it's all here in the 3rd largest metropolitan economy in the world. Our beautiful Westchester campus is surrounded by more than 500 technology startups including some of the nation's most exciting and creative companies. This dynamic region is the 3rd largest startup ecosystem in the U.S. and a thriving hub for synergistic learning.

By taking advantage of our location, the College of Business Administration experience is defined by real-world learning opportunities from across our incredible city — internships, industry mentors, global conferences, networking events and more. We cultivate close relationships with L.A. business leaders who sit on advisory boards, serve as entrepreneurs-in-residence, give feedback on student-developed marketing campaigns and more.