Past Speakers

Toby Groves - Nov. 15, 2018
Dr. Toby Groves discussed a revolutionary approach to skepticism that enhances professional reasoning and judgment as well as the surprising psychology and invisible influences that impact skeptical judgment. Attendees learned how judgment can be refined by turning the lens of skepticism back on yourself, recognizing and adapting your approach to achieve the best results.
Charles Swenson - Feb. 15, 2018
Charles Swenson, USC Professor of Accounting, spoke about the Tax Cuts and Jobs Act of 2017 which was the most significant change in federal income tax laws since 1986. He summarized the tax law changes and discussed how these changes affect all taxpayers - business, individuals and estates and trusts. Swenson noted that it is generally a tax cut but some taxpayers will experience tax increases. The changes leave uncertainty because regulations are in process and it is unclear if states will adopt the changes as well. To view lecture slides, click here.
Dr. Swenson is an expert in state and local taxation and has taught taxation courses for the last 30 years. A California CPA, he has testified numerous times before the California legislature and the City of Los Angeles on tax policy issues.
Daniel O'Leary - Feb. 22, 2017
Daniel O'Leary, USC Professor of Accounting, is an expert on artificial intelligence in business, social networking, e-business and knowledge management. His lecture examined big data, the sources of big data and the impact of big data on privacy and ethics.
Not surprisingly, every day more and more data is being generated. And people are getting more and more clever at analyzing it. Accounting and finance professionals are aware that this big data tsunami will impact their jobs. Companies today are looking for professionals with data-driven insights who understand how to use predictive analytics to make decisions rather than relying on experience.
Professor O'Leary discussed the five characteristics of big data known as the five V's: volume, velocity, variety, veracity and value
Volume: indicates that there are increasing amounts of data over traditional settings
Velocity: suggests that information is being generated at a rate that exceeds those of traditional systems
Variety: indicative of there being multiple emerging forms of data that are of interest to enterprises
Veracity: refers to the accuracy, truthfulness and reliability of the data
Value: refers to the potential for big data to provide a cost benefit to an enterprise's technology portfolio
Professor O'Leary discussed the magnitude of big data, including the Internet, social media and even personal devices such as Fit Bit bracelets. The "internet of things" refers to all of the devices, cars, appliances, etc. that are directly connected to the Internet and continuously gathering data. The key question is: what does all this data mean and how can it be used to benefit business?
Ruth McCartney - Oct. 19, 2016
Big Data is having a big moment. More than 90% of the data in the world was created in just the last two years. It's cutting billions in energy costs, decoding DNA to find cures and anticipating hurricanes. Big Data predicted the Zika virus and the Ebola outbreak. It even predicted the winner of the 2012 presidential election.
With the power of massive data sets and advanced analytics, experts say that companies with savvy finance departments will better anticipate customer and supplier demand, predict sales and profits under hundreds of different scenarios, detect fraud and drastically cut the time it takes to close the books at the end of each quarter. Not surprisingly, accounting and finance graduates with data analytics expertise are in high demand.
"There is a new generation of accountants coming up who can be impactful in making sense of all this data that's being collected," said Ruth McCartney, CEO of McCartney Multimedia and stepsister to the famous Beatle.
Ruth was introduced to data as a young girl in the mid-1960s when the Beatles were first becoming popular. She was essentially managing all of their fan mail by collecting names, addresses, cities and states as a way to keep in touch with them. She remembers John Lennon used to call them "customers" instead of fans.
The origins of data started out in churches. Then came analog data (birth/marriage/death records, census data, visitor guest books) followed by online forms and accounts. Big Data, or unstructured data, was introduced with social media with its likes, dislikes, comments, shares, etc. New (even bigger) data such as mobile and real time data GPS, weather, QR code scans, mapping, package tracking and traffic add to the challenge of analytics.
Ruth shared numerous examples of how Big Data is impacting our everyday lives through the use of retail rewards cards, online purchases, airline loyalty programs, store foot traffic and food consumption patterns.
Every click, share, check in, email, blog post, SMS, MMS, phone call, music download, Netflix stream, e-commerce transaction, web search, Skype call, FitBit run and iChat creates a blip on the Big Data radar that is being recorded and analyzed by someone, somewhere. By 2020, digital knowledge is expected to equal 44 zettabytes, up from 4.4 zettabytes today. One zettabyte equals two billion minutes of music. And 99.5% of this digital information hasn't even been looked at.
"Because accountants and finance professionals are trained to gather, analyze and benchmark data, students today are in a unique position to be able to provide a new and critical service to employers: making Big Data smaller and distilling vast amounts of information into actionable insights," said Ruth. "Big Data is here to stay and will create jobs and place more power in the hands of the financial community."
Paul H. Stebbins - Feb. 18, 2016
With the United States' national debt at a post-World War II high, Paul Stebbins, chairman emeritus of World Fuel Services Corporation, spoke about "Fixing the Debt – Our American Experiment at Risk."
At a time when the U.S. debt is twice the historical average and we are projected to add another $8 trillion over the next decade, Mr. Stebbins shared his insights on how we got here and what we can do to fix it.
Gary Cokins - Oct. 28, 2015
Gary Cokins, an expert on performance improvement systems and advanced cost management, presented "Analytics-Based Performance Management – Making It Work." Most companies are far from where they want and need to be when it comes to implementing analytics and are still relying on gut feeling, rather than hard data, when making decisions. Gary discussed how analytics can be incorporated into various business methods to improve an organization's strategic and operational performance.
Anthony Leiserowitz - Feb. 9, 2015
"Wouldn't it be great if everyone was required to take Climate Change 101?" asked Anthony Leiserowitz, director of the Yale Project on Climate Change Communication at Yale University. "Unfortunately, it's never going to happen because the vast majority of people are just too busy."
Dr. Leiserowitz is an expert on public opinion and engagement with the issues of climate change and the environment. He spoke to LMU students, alumni, faculty and staff on February 9th as part of the College of Business Administration's Paul A. Grosch Lecture Series where he shared recent trends in Americans' climate change knowledge, attitudes, policy support and behavior, as well as discussed strategies for more effective public engagement.
Climate change is extremely complex – it deals with the operation of the entire planet. A massive disinformation campaign over the last few decades has resulted in vastly differing opinions when it comes to climate change. There are five basic beliefs when it comes to climate change:
It's real
It's us
It's bad
Scientists agree
There's hope
The majority of Americans (66%) think that global warming is happening, but only half believe it's mostly human-caused. When Americans think about global warming, images of melting glaciers and polar bears come to mind. In other words, climate change is seen as a distant problem so very few Americans are worried about it impacting their lives.
Even the President of the United States and Congress don't consider the environment a priority – global warming shows up at the bottom of the list. And almost no one associates global warming with impacts on global health. Recently, global warming naysayers have dramatically increased. Why? Blame the economy and unemployment, declining media coverage, unusual cold weather, denial industry, Climategate and increasing political polarization.
According to Leiserowitz, American audiences fall into six different categories when it comes to global warming (Oct 2014):
Alarmed (13%)
Concerned (31%)
Cautious (23%)
Disengaged (7%)
Doubtful (13%)
Dismissive (13%)
"Much of the debate about climate change has to do with conflicting values," said Leiserowitz. "Those with egalitarian world views are most concerned while those with strong individualistic world views are dismissive. Interestingly, everyone supports clean energy because it resonates with independence and self-reliance."
Though public understanding of climate change declined from 2008 to 2010, we're starting to see a rebound. Fifty-seven percent of Americans say that global warming is affecting weather in the U.S. People are starting to notice a pattern (ex. California drought, blizzards in the Northeast, 2012 was warmest year on record in U.S.)
"The good news is Americans are starting to connect the dots between climate change and extreme weather, jobs, national security, faith and values," said Leiserowitz. "The facts are actively interpreted by different audiences, but it's my job to communicate the scientific consciousness."
Dr. Leiserowitz conducts research at the global, national and local scales, including many surveys of the American public. He has served as a consultant to the John F. Kennedy School of Government (Harvard University), the United Nations Development Program, the Gallup World Poll, and the World Economic Forum. He is also the host of Climate Connections, a national radio program and podcast.
J.D. Power - Oct. 21, 2014
The CBA was fortunate to have business icon J.D. "Dave" Power grace the Hilton stage for the second time in the last five years. Moderated by President's Professor of Marketing David Stewart, Mr. Power had an intimate hour-long chat with the LMU business community about starting J.D. Power and Associates from his kitchen table and the lessons he's learned over the years.
After earning his MBA from the Wharton School at the University of Pennsylvania, Power joined the Ford Motor Company as a financial analyst before switching over to marketing research. He hopped between several other firms, eventually landing in Los Angeles.
"In those days, market research firms could only work for one company within an industry," said Power. "I felt the research was biased and the people who purchased it didn't understand what they were getting back and often altered the data."
Frustrated that no one would listen to his ideas, Power founded J.D. Power and Associates in 1968 and began conducting his own marketing research, much to the chagrin of the automotive industry. With the help of his wife Julie and three children, Power mailed surveys to industry professionals, tabulated the data and sold the results. It took years to convince the industry to accept this new method of gathering data. The first customer satisfaction survey was administered in 1980.
According to Power, the media had the most significant impact on the success of his company. In 1972, Mazda introduced a vehicle with a new rotary engine that took the country by storm. Power surveyed the first 2,000 buyers and discovered that 1 out of 5 vehicles that reached 30,000 miles had to get the engine replaced because of an oil ring problem. After publishing the report, Power got a call from a reporter at The Wall Street Journal. The next day, the story was on the front page of the newspaper, which really catapulted the firm to a national status. Subaru was the first automaker to advertise its J.D. Power rankings by running a commercial during the 1984 Super Bowl. Several years later, the firm was featured in a segment on 20/20 that solidified its credibility.
Power credits the four years he spent in the Coast Guard for helping him understand how to work with people. In charge of over 800 employees in the late 1990s, Power took a unique approach to his management style which worked very well for the company. He would go around the office checking on people and making casual conversation. Power wanted his workforce to operate like a family and his leadership style was a big reason why the company had such a strong support system in place.
Power has witnessed a lot of change in the automotive industry over the last 50 years. He believes the current industry is at a crossroads and is being challenged by new companies (Tesla) and technologies (electric cars).
"We're going to see the disappearance of automobiles as we know it," said Power. "Technology is developing so fast and change is more rapid. Middlemen are going to disappear and selling is going to be much more direct in this new digital age. It's an exciting time."
Leslie Seidman - Oct. 8, 2013
Leslie Seidman, former chairman of the Financial Accounting Standards Board (FASB), presented a lecture titled "Setting Standards" in which she discussed how the FASB sets standards, the political pressures FASB members confront, and convergence efforts with the International Accounting Standards Board (IASB).
Seidman was appointed to the FASB in 2003 and served as chairman from 2010-2013. As part of her responsibilities, she spearheaded efforts to converge U.S. accounting standards with international accounting standards. The FASB was established in 1973 and sets standards for public and private companies as well as nonprofits.
Seidman kicked off her presentation by giving an overview of how the FASB is structured and its relationship with the SEC. There are a number of committees and councils that assist the FASB with identification, discussion and resolution of financial accounting issues. Seidman went on to explain the FASB standard setting process, which includes identifying the issue, research, issuing a document for public comment, roundtables, issuing an Accounting Standards Update and post-implementation activities.
According to Seidman, the top five issues raised by stakeholders include 1) Disclosure Framework; 2) Hedging; 3) Conceptual Framework; 4) Liabilities and Equity; and 5) Pensions and Financial Statement Presentation. The good news is that since 2002, the FASB and IASB have substantially improved and converged financial accounting standards. There are still improvements to be made, but the FASB is committed to working with regional, national and international standard setters to continue to narrow the differences and develop comparable global accounting standards.
Aaron Beam - Mar. 19, 2013
Aaron Beam, co-founder and former CFO of HealthSouth, presented a lecture titled "Ethics First," centered on the lessons learned from the $2 billion HealthSouth accounting scandal. He described the internal forces within HealthSouth that led to an overstatement of the company's earnings by nearly $2 billion. Additionally, Beam explained with brutal honesty how the fraud was perpetuated, emphasizing the ethical lessons that students should learn from it.
In his lecture, Beam discussed some of the factors that contributed to the HealthSouth fraud, such as the VP of internal auditing reported directly to CEO, the CEO became a darling of Wall Street before Wall Street knew his true colors, the Board of Directors did not do their job, Wall Street's desire to "do deals" pushes companies to the edge of honesty, accounting practices in the for-profit sector of HealthSouth had a very poor track record, and Wall Street analysts rely too heavily on data from the companies they cover.
Beam also highlighted the Seven Signs of Ethical Collapse:
Pressure to maintain the numbers
Fear and silence
Young 'uns and a bigger-than-life CEO
Weak board
Conflicts
Innovation like no other
Goodness in some areas, atones for evil in others
Afterward, Beam signed copies of his book, "HealthSouth: The Wagon to Disaster," for students and answered questions during a reception.
Joshua D. Rauh - Oct. 15, 2012
In a lecture, titled "Cities and States in Crisis," Joshua D. Rauh, professor of finance at Stanford University, spoke about the current and future financial crisis faced by many state and municipal governments, with specific emphasis on future revenue demands that will be made by public pension obligations. He estimated that state and local governments presently have over $4.4 trillion in unfunded pension obligations, about $35,000 for each American household. Rauh explained how this situation developed, how pension laws have contributed to the problem and how accounting standards have masked the extent of the problem. He also addressed how this will affect citizens of California and proposed some solutions.
With California cities like San Bernardino, Stockton and Mammoth Lakes declaring bankruptcy, Rauh's topic was a huge draw and resulted in over 400 faculty, staff, students and alums packing into Hilton 100 to hear what he had to say. Rauh started off by giving a general overview of pension plans and how much money public employees can make after retirement. The problem is that there isn't enough money coming in that's going out which has resulted in a severely unbalanced budget. The pension crisis is getting so bad that Rauh believes it won't be long before pensions are wiped out altogether. Rauh proposes some sort of hybrid between a pension and a 401K as a potential solution for retirement plans.
Diana B. Henriques - Jan. 31, 2012
Diana Henriques is an award-winning financial journalist at The New York Times and bestselling author of "The Wizard of Lies - Bernie Madoff and the Death of Trust." She specializes in investigative reporting on white-collar crime, market regulation and corporate governance. Her lecture - presented in front of a packed Hilton Auditorium - focused on the topic: "What We Should Learn from Bernie Madoff."
As the only journalist permitted inside prison to interview Madoff, Henriques has had the opportunity to get to know the real man behind the $65 billion scandal. In her lecture, she discussed the power of trust and described some of the top characteristics of "wizards" like Madoff who have a gift for seduction that make people trust them. She also addressed the two biggest ethical dilemmas at the heart of the Madoff case: 1) How do we monitor and police the people we trust? and 2) There is no Wall Street honor code – we continue to tolerate those who lie, cheat and steal. Which begs the question, why are people so reluctant to report wrongdoing?
A reception and book signing immediately followed the presentation where audience members had the opportunity to interact with Henriques and purchase her book. A Polk Award winner, she has won several awards for her work on the Times's coverage of the Madoff scandal and was part of teams recognized as Pulitzer finalists for covering the Enron scandal and the financial crisis of 2008.
Bethany McLean - Feb. 22, 2011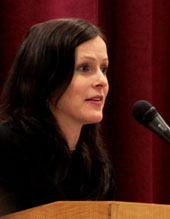 In February 2011, the LMU Department of Accounting held its inaugural Paul A. Grosch Lecture Series with the 2008 financial crisis as its theme. The event educated students on the consequences of human error and recounted what factors led to the inevitable collapse of the global financial sector.
The series' two components allowed multiple views of the financial crisis. First, there were three screenings of the documentary, "Inside Job," the Oscar-winning film that explored the causes of the 2008 crisis. Close to 500 people viewed the screenings, which were open to the LMU student body and general public.
The second component was a lecture by Bethany McLean, author of "All the Devils Are Here: The Hidden History of the Financial Crisis," and the 2003 bestseller, "Smartest Guys in the Room: The Amazing Rise and Scandalous Fall of Enron." McLean, a former stock market reporter at Fortune magazine, saw her profile rise after her 2001 article, "Is Enron Overpriced?" published. This article was the first in a national publication to openly question the company's high valuations and suspicious financial statements.
In her lecture, McLean spoke about researching and writing both books. She compared and contrasted Enron and the financial crisis, emphasizing the fatal flaws of those in power at Enron and several other companies. McLean also discussed some of the top lessons she's learned from covering corporate scandals: don't overestimate the amount of incompetence in the world; the truth is stranger than fiction; listen to the skeptics; it's impossible to find people who aren't biased; everything looks different in hindsight; and if you don't want to see your actions on the front page of the paper, don't do them in the first place.