Imagine if The Apprentice and Shark Tank had a baby. That's basically what the M-School's Marketing for Good initiative is. Teams of 5-6 students identify and select a problem, issue, or opportunity tied to a specific United Nations Sustainable Development Goal (SDG). Over the course of 15-weeks, teams create and design a product or campaign to address the problem and/or shift people's attitudes, perceptions, and behaviors toward a specific issue. Halfway through the course, they pitch their ideas to a panel of C-Suite marketing judges for feedback and Idea Accelerator funding to actually execute and launch their product or campaign in real life, throughout the second half of the semester.
People tend to have anxiety when using public transportation for the first time. 75 created an easy way to relieve those anxieties by making public transportation an adventurous experience. By helping Angelenos reduce their carbon footprint and find the coolest spots in LA, we make them feel like a tourist in their own city again.
Angela Lin '22, Genaro Camacho '22, Giovana Poisl '22, Hojoon Lee '22, Sarah Lowey '21, Megan Reyes '22
@rideseventyfive
Between the Birds and the Bees is an illustrated children's book that discusses gender identity and expression in a way that is approachable for kids.
Daniel Mariscal '22, Gio Recinos '22, Jay Corscadden '22, Katherine Wislocki '23, Sarah Popalisky '22
@between.birds.and.bees
https://linktr.ee/Betweenthebirdsandthebees
TLC was founded by five students who experienced the negative impacts of social isolation and social media on their mental health during quarantine. With our care package, we hope to reconnect students with their loved ones through postcards, while encouraging them to practice self-care and mindfulness through journaling.
Caitlin Colina '22, Emily Cleary '22, Hanna Rosenbaum '22, Joey Cuevas '22, Ryan Crivello '21
Due to the Covid-19 pandemic, homeless shelters no longer offer group-oriented services and therapies, leading to unprecedented levels of loneliness and mental illnesses among homeless individuals. Comfort Canvas has created art kits for homeless people to engage in art therapy, find comfort in creativity, and share their art to inspire others.
Alison Martin '22, Claudia Gusti '22, Juan Montenegro '22, Kate Whitehall '21, Trevor Gray '21
@comfort.canvas

What People are Saying
Alison Taplin
M-School Student, Class of 2019
The Marketing for Good project has been another way to get out of the classroom and see first-hand what it is like to run a campaign from start to finish. At first, I was super nervous about this project, but now that we have launched our campaigns I can say this has hands down been the best class assignment I have ever had. It is a lot of work, probably the most hours I have ever put into a single class, but it is all worth it. My group was working on our practice pitch until 2am, only to be ripped apart the next day in class. We ended up redoing pretty much all of our project the week before our pitch to investors. All of our work paid off because we were rewarded the top prize to fund our project.
Ben Perreira
M-School Mentor / Senior Manager, Integrated Strategy, Mattel, Inc.
The M-School and Marketing For Good are a secret weapon. Having small budgets and a mandate to create social good forces you to focus on finding a great idea that will thrive on its own, because you don't have an established brand or big media budgets to cover you. As a bonus, or maybe just as a consequence, M4G has been a great place to find new talent to come join us after they graduate.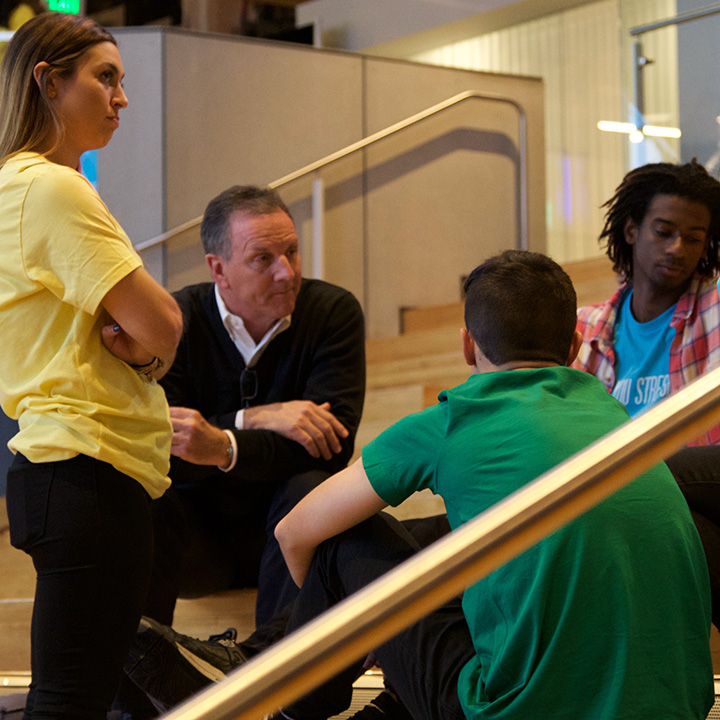 Industry Pros
Find out how you can contribute by sharing your experiences!